Do you like reading and eating yummy food?
The Kitchen Conservatory in Clayton, is offering a culinary book club for food lovers with a cooking demonstration on November 14th. Several of the members in book club are planning on attending. If you are interested in joining us, please go to the Kitchen Conservatory's website and sign up. I am sure that this class will fill up quickly, as most of these demonstrations accommodate around 15 people. Payment is required at time of registration. Please let me know if you are going, so that we can arrange a carpool. Following is the information regarding the book and demonstration. This sounds like a fun adventure:
KITCHEN CONSERVATORY – COOKING CLASS (DEMONSTRATION)
NOVEL CUISINE: BLACK DIAMOND (3rd in series)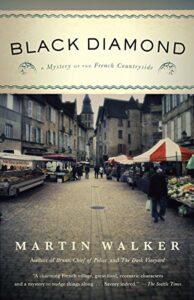 Sabotage and deceit in the black truffle industry of the Dordogne is threatening the multi-million dollar truffle trade industry, as cheap sub-par Chinese truffles are being smuggled into France and passed off as real black truffles in Martin Walker's Black Diamond: A Mystery of the French Countryside. As the class discusses the challenges for Chief of Police Bruno in this lively read, Mickey Kitterman will prepare black truffle corn beignets, roast poulet cooked with truffle butter, black truffle pilaf with mirepoix, plus chocolate truffle tart with praline anglaise.
Novel Cuisine is a culinary book club for food lovers that read the book in advance and includes novels, memoirs, histories, science and politics — all with food as a central theme. The books for Novel Cuisine are available at Kitchen Conservatory. Come to one or as many of these classes as you like! Novel Cuisine started in our kitchen in 2006 and our readers and food lovers have discussed nearly 200 books! We love to hear from our students what books they want to read!
Register for the class here, then please RSVP.
OTHER DETAILS:
Instructor: Mickey Kitterman, Kitchen Conservatory Staff
Type: Demonstration
Cost: $45 per person